The first thing you would notice about this lady is her petite outlook, and you would wonder how someone that "small" could do as much as she has done.
Tolu Michaels is passionate about God, just as she is immensely devoted to His people, God's people. She describes the Lord as "the oxygen to her soul". Little wonder when she was just a young girl in secondary school, she got an instruction from the Lord to start a fellowship in her school.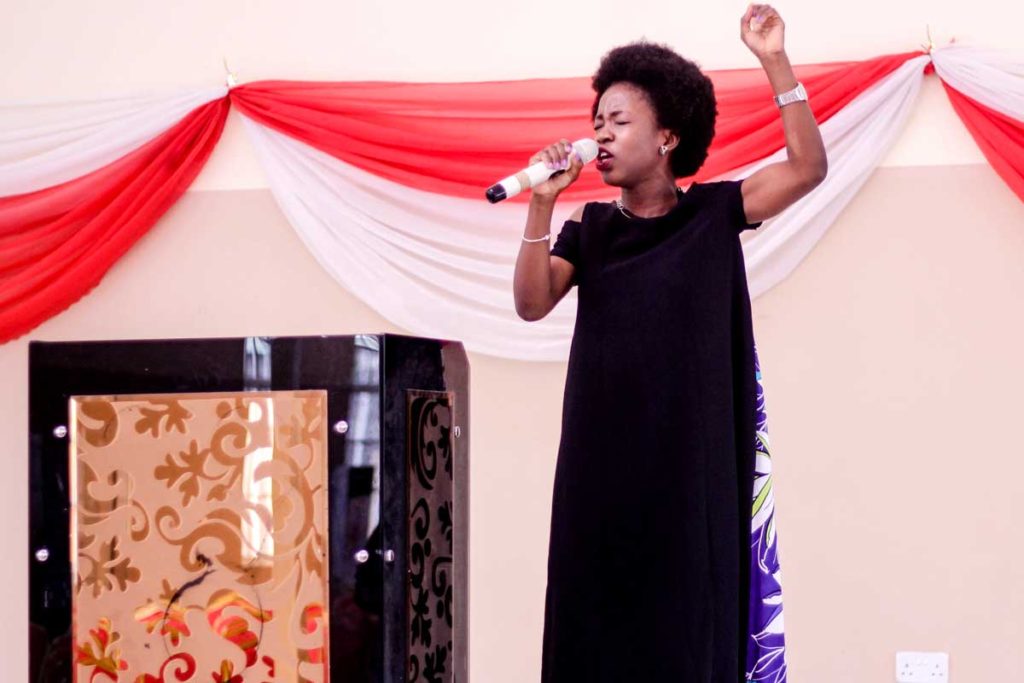 She was reluctant about it for a while because she had no idea what she would say, but she finally gave in and started one in a classroom. According to her, the instruction from the Lord was "to raise an army of people that are extraordinary, not just church-goers but people that actually love and come to Him not because of the things that He can give." At just 13 years of age, Tolu stepped out in faith and that act of obedience gave birth to Godlovers Fellowship.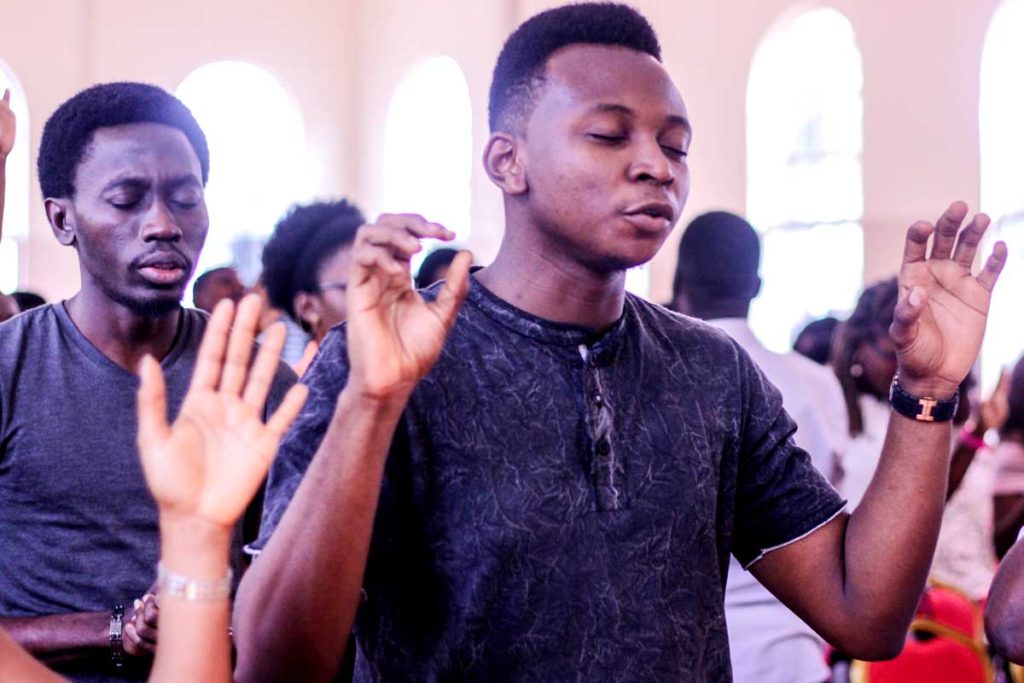 Her friendly and kind disposition attracted people who would attend her meetings probably to give her moral support. But as they heard what she was sharing, they in turn invited their friends and through word of mouth the fellowship grew. For its first ever conference, group secured the school's multipurpose hall where she addressed hundreds of students.
But she soon moved on to the university and that was the end of the fellowship, or so she thought. But while in university, she got the same instruction again, and the fellowship began again, growing to what it is today.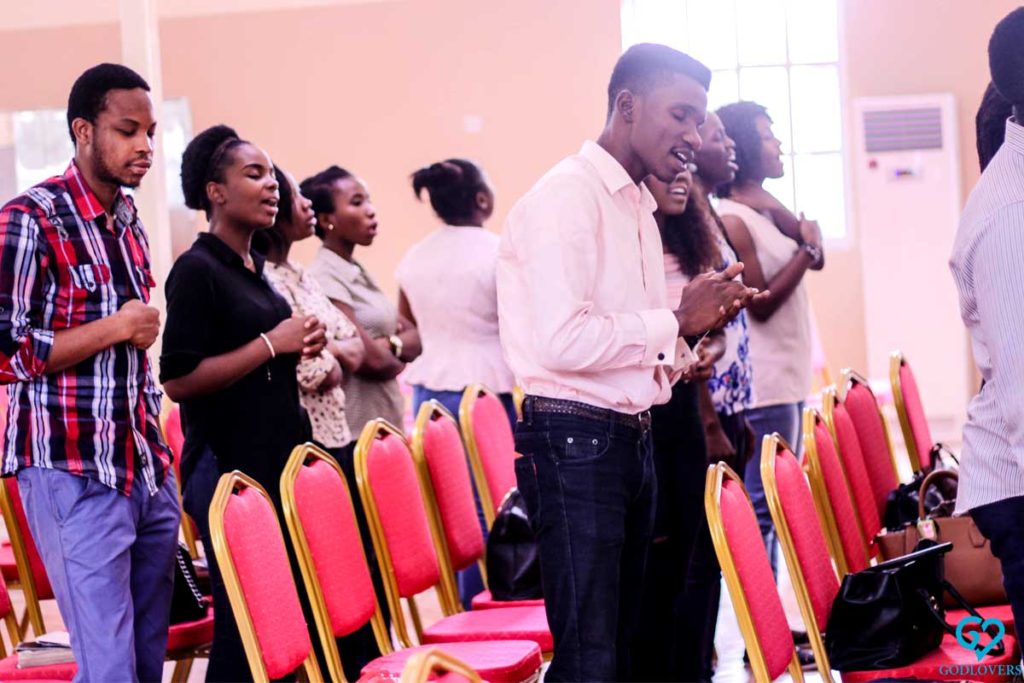 "At some point in 2008, the Lord actually told me that Godlovers Fellowship is going to be a thriving organisation, a big sustainable organisation. And because at that time the concept of non-profit organisations was not big, also I wasn't really old enough to have all those examples. So the example, He gave me was W.H.O (World Health Organisation) and O.A.U (Organisation for African Union) and the United Nations; if you go to a primary school at least everyone knows what those are. Those were the big examples of NGOs we knew, so the Lord specifically gave me those examples to give me an idea of the sustainability and the structure.
"And so from the onset I have always thought about things like succession, continuity and sustainability. I have always had the idea that whatever it is that we become we're not going to stop because of one person. So it's not going to stop if I die or if somebody leaves and that's how we've been building and today I am happy to say that we are  thriving, dynamic organisation with people that love the Lord."
The group holds three major meetings annually: an annual conference to mark the end of the first half of the year, a prayer conference to mark the second half of the year and then a picnic/hangout tagged "Living Love (LL) Series".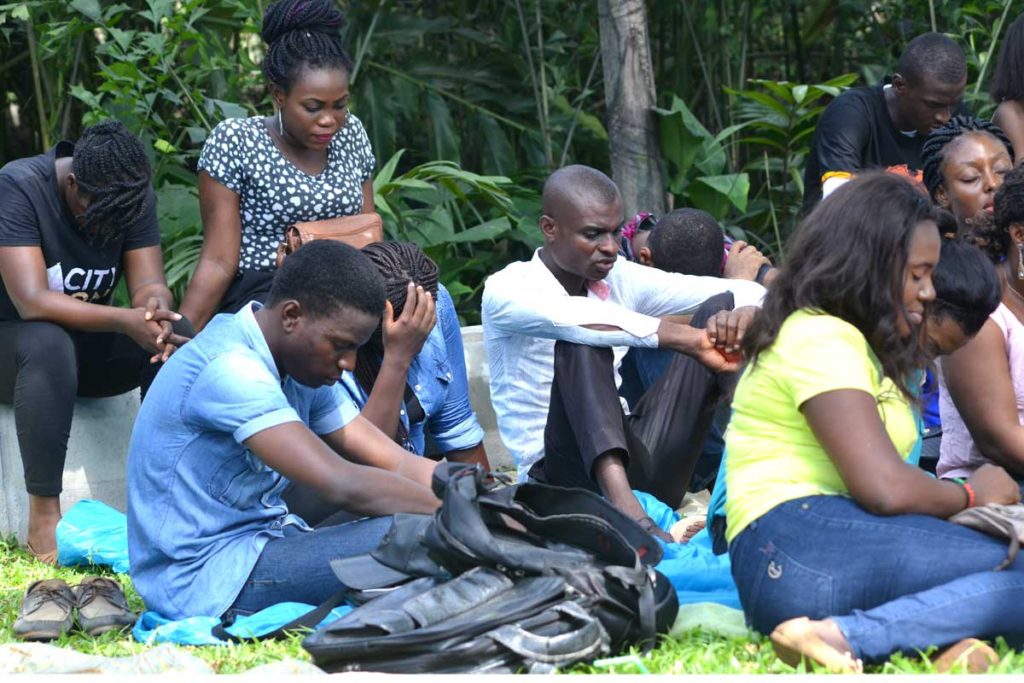 Her team is also a strong support system as most of them are creative professionals who contribute their individual skills and are volunteers to the work of the Kingdom. From the administrator, to the graphics person, and the media team, they are all young people driven by two things – Love for God and Love for His people, under the oversight of a recently appointed Board of Directors.
Although Tolu was born into a Christian family, she began her walk with God when she asked Him to come into her life in 2005 and had to solely rely on the Holy Spirit to teach her thereafter, as she was most of the time in the boarding house.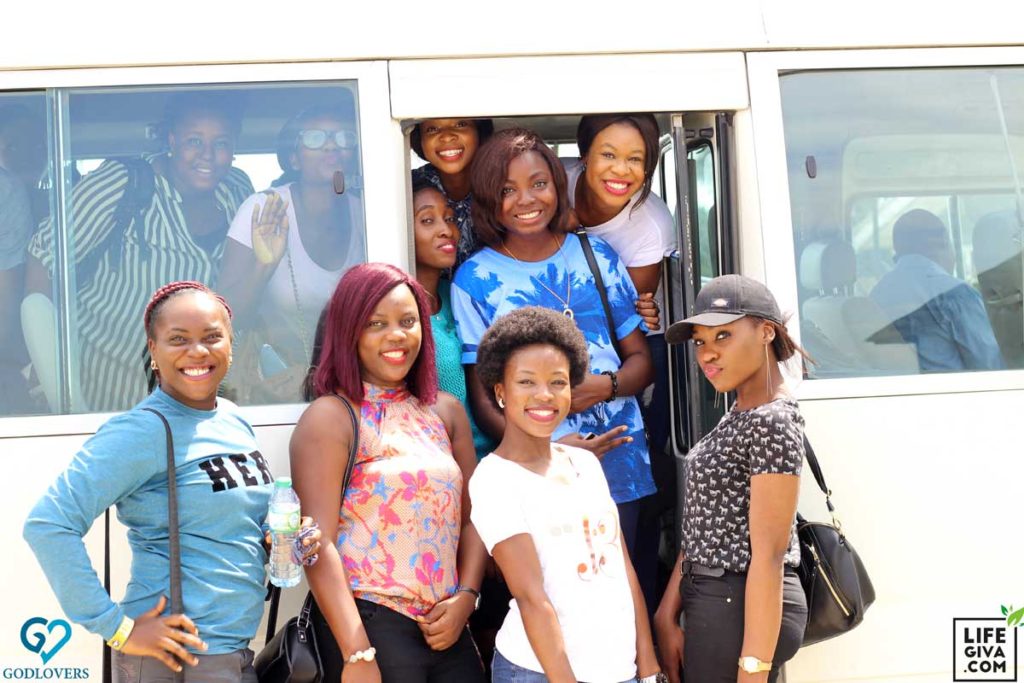 She also read books by men like Kenneth Hagin, T.L Osborn, Max Lucado, focusing on the Lord and ignoring the razzmatazz in the society. According to Tolu, her code of honour is, "Whatever is right by God's standards".
Tolu's story is simply the testimony of the "small girl" who dared to trust her big God, a God lover and a people devotee.
Married to her sweetheart, Pastor Ozioma Michaels, Tolu has relocated to Port Harcourt, Rivers State, from where she co-ordinates the activities of Godlovers Fellowship.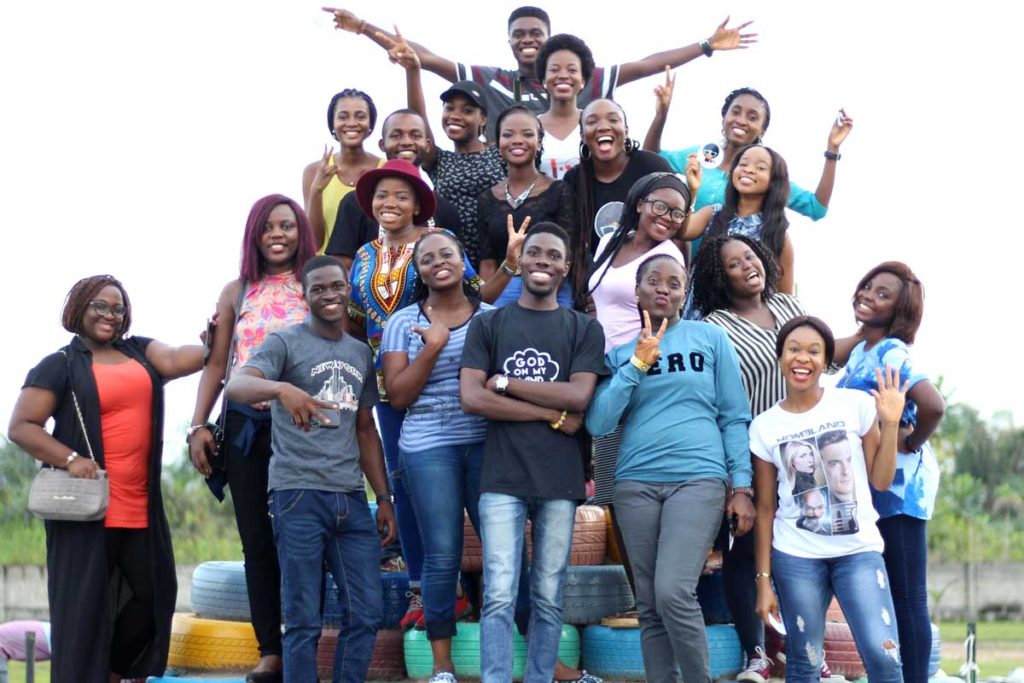 Full Interview With Tolu Michaels
KT: How did the Godlovers Fellowship start?
TM: Godlovers Fellowship started in 2007. I was in Caleb International College, so I'll say in Caleb International College, Lagos. It started as a fellowship in a classroom. So every Friday after school, for about 30-45 minutes, we'd pray, share testimonies and then I'd talk about loving God, loving other people. It was what we talked about for up to a year, there's so much to say about loving the Lord.
So the Lord spoke to me between 2006 and 2007 that He wants to raise an army of people that are extraordinary, and I asked Him how I was going to do that because, actually I was 13 in 2006 and then He says to start a fellowship. I laughed because it was ridiculous, I didn't know anybody that was doing that, I didn't know who to ask, what to do. Besides, I was in secondary school, so I wondered who'd listen to me and why I would talk to my mates. But the thing was, I had a few people, people who would do anything because 'Tolu' asked them probably because I had been nice to them one time or the other.
So overtime, when I could not run anymore, I talked to some friends and classmates and they started to come and you know out of curiosity some would join us and others were friends of the invitees, and when you tell them that it was part of love to invite people, they would. Actually, it was refreshing because back then in school Christianity and everything in general was forced and that was why I understood what the Lord was saying when He asked for a people that would serve Him for who He truly is and not out of fear but love. And I guess it was really refreshing for students to be in a fellowship where people were talking about love and not the fear of hell. It was fun because it was for students by a student.
KT: What is the vision of the fellowship?
TM: Our vision is to raise a generation of people that love the Lord and to genuinely love other people just like He does. For our mission, we always say that we are a supportive, inspiring, international community where everyone is free to live for the Lord, to love Him and to love other people. We want to spread and advertise the love of God everywhere; we want people to know and remember that God loves them personally and eternally and to be proud of that, happy and content with that.
I believe that we should be content with that. The things we have and have accomplished are not proof that God loves us. The proof that He loves us is that He gave His Son and on the basis of that we can love other people whether they love us or not.
KT: How far has it come since then?
TM: That's interesting, I had assumed that it was just a secondary school phase and honestly, if I knew it was going to be this big, I wouldn't have started. I thought it was just a classroom fellowship but towards the end of the year when we were leaving the school, we needed to do a conference. So we actually had a big meeting in the school hall, a new hall, and I was on that big stage and I talked to hundreds of students and so I thought that was it. But when I got into the university, that voice came again towards the end of my first year. And in my second year we started Godlovers Fellowship again.
It was a weekly meeting, every Sunday. And then we grew just like in secondary school when a class could not contain us again; we grew in university. Then due to some school policies we had to stop. So, I really didn't know that we will be doing what we are doing now.
At some point in 2008 the Lord actually told me that Godlovers Fellowship is going to be a thriving organisation, a big sustainable organisation. And today I am happy to say that we are a thriving, dynamic organisation with people that love the Lord. Another exciting improvement is that we now have an annual conference at the end of the first half of the year and our prayer conference by the end of the second half of the year. So, June and December and then we have Living Love (LL) Series which is aimed at fostering a love for God, His creation and we do it via fellowship and fun in a serene environment like a resort or park and then everyone can let down their hair, play games, gist and ultimately talk about the Lord and how to love other people, we usually take our reading from 1 Corinthians 13.
KT: How do you handle the responsibilities of running the fellowship or do you have a team and do you pay them to work?
TM: We have people everywhere, team members in different parts of the world and we work together and everyone bringing their own skill and resource just to make this happen and today we have a board.
I am particularly excited about that because the process of incorporating a non-profit is not as straight forward as a normal business, and we really didn't have to do it. But I am happy that we have because that also attests to the sustainability and how far we can go and it helps us make better decisions.
Taking on the role of directing the whole organisation is really good, it pushes me but I also realised that the organisation cannot just be limited to my scope, knowledge or network. So now that we have a board we have a broader scale of resources to tap into. And yes we have volunteers, everyone on the team actually volunteers. People generally grow into their roles here and for everyone in the management team right now, they were once only members that came and never left. As a matter of fact, all our directors are those who came in the early days and never left.
Everyone is actually skilled in one area or the other and they give their skills to the fellowship. The writers are professional writers, our graphic designer chief actually runs his own creative agency and decided to use his skills for God and he does our work free of charge. So even the ones we pay like the instrumentalists, we don't see it as paying because we just give them transport fare because they are not actually members; they're just helping out. But every other thing we have volunteers for them although we're looking to hire one or two people in the next years so that even though we have our volunteers because of their schedules and careers and the rate of our expansion, we need people to do even more, that we can demand more from.
KT: How do you manage the Lagos arm of the fellowship since you're in Port Harcourt?
TM: There's really no Lagos arm; we are just Godlovers everywhere. We do most of our meetings online, even when I was in Lagos because I always knew that there would come a time when people would go to different places for one thing or the other. So we built a culture of not having unnecessary physical meetings.
Honestly, I never feel that because I'm not there physically, something would go wrong and besides we are expanding to different parts of the country. Like we had our Living Love (LL) Series in April in Port Harcourt and it was really interesting. Now, the question should be how since it was only me, did I manage to find people and organise the event which was two times bigger than our Lagos version. Truth is everywhere we go, we always find people willing and able to be part of it. Remember I said that people grow into their roles. For example, our Director of Operations at present was just the logistics guy many years ago and did anything that the girls couldn't do and then he became a team leader for our media and audio visual and then went to organising our photography and before we knew it he had become our project manager, then in charge of logistics and now the director of operation. So, people who volunteer have been here for a while and they want to do it.
KT: There seems to be a gap in the spiritual growth of our parents and our generation. There seems to be fewer people having genuine experiences of God and His mighty power. Do you agree? What are your thoughts on this?
TM: Honestly, I don't think so. Personally I know quite a number of young people that love the Lord, that are seeing him, that have genuine experiences with Him and his mighty power, so no. But I think that generally, in terms of culture and progression it might be seemingly harder today to live for the Lord just because we don't even have time for God; everyone is so busy but I think if there would be any problem it will be us and not God.
People say God does not show up as much as he did in the days of old and I don't know why they say it because I do not believe it. I think what God told us is that "the glory of the latter house will be greater than the former". God said we should seek Him and we'll find Him. So many are just not seeking Him but He's there. God is willing to start a fire in us, to build us into His own image. He wants us to be better, so I think that maybe it's just us.
That's why we have Godlovers conferences, with the purpose of connecting people who love the Lord and inspire them to live for God in spite of today's culture. So when you come to a meeting like that you realise that you're not the only one who loves the Lord. I think that's what we need, to surround ourselves with people and experiences that can spur us to develop deep-seated hunger for God and not just for things.
The problem today is that there is so much emphasis on things and achievements. I believe that all my achievements and accolades I receive do not prove that I am growing spiritually. I believe that spiritual growth is becoming more like Jesus, seeking after His righteousness, that's what the Bible said and all these other things will be added to us. But people have left seeking God to seek these other things and I believe that could be the problem. And as I said earlier, everyone says there is no time, so they don't want to stay in His presence and seek him, to love Him and worship Him.
KT: What impact has Godlovers fellowship had on the youths?
TM: I'll just tell you what people have said. People have said that at Godlovers they have learnt to see God for who He really is, a loving Father that gives us a choice and guides us to choose life as opposed to a judge waiting for us to walk into our damnation and judge us on the last day. You know the way people paint Him.
People have learnt that it's not about coming to a religion but by coming to a family. People have also learnt that it's not just about saying "I love you, God bless you", it's even more about getting actively involved in helping other people improve their life. People have said that the Love Creed has blessed them and they now know how to walk in love and people have said that they realise that in our meetings they are not alone in this journey and are excited to know that there are others like them.
I think, generally for young people Godlovers has become such a popular word. In 2007 when we started I never heard people use that word but today most people when you look at their bios (on Instagram) you see "I am a God lover" and after we had our "Unashamed" Conference last year people began to say "I am unashamed". And I thought that was great so I guess this year people would say "Oh I am ablaze, I am burning for the Lord, I am a shining light". And you know, that's just the impact that we are having and I believe that shortly people would look at our generation and see a difference.
We won't be those people that go to church so they won't call us "pagans" or to make connections and search for what the Lord can do for us, but people who actually love the Lord, seek after Him and want to burn for Him. I strongly believe that people will see that difference in our generation.
KT: Is this affiliated to any church? If not, how do you people come together?
TM: No. Godlovers is non-denominational, inter-dominational and if you remember when I talked about how we started, it has nothing to do with any church. And how do we come together? Online! People meet and like us online and that is why I believe in the power of social media and digital strategy. It is important to have a digital strategy. Physical meetings are good but you'll talk to people you never knew, never met and I've met a lot of people I never would have met if we were not online rather than if we had had physical meetings.
Our online Bible study is twice a month, that's one way we come together and through our social media handle people find us and talk to us and we reply, they attend our events so it is not particularly sponsored by any church.
KT: Where do you project this fellowship to be in 5 years?
TM: In the next five years we will have our biggest, most audacious goal. Of course there are quicker and shorter-term goals that I may not be able to talk about in this interview but our biggest, most audacious goal is "The Love Place". Now, our vision for it is to have a place where we can hold our conferences annually, owned by us. It costs us good sums of money to hold these Christian events that people hold today and so we want this not just for us but for other Christian organisations and ministries can get a place for their programmes at a discounted rate.
And another vision about "The Love Place" is that it is going to have a large expanse of land, little chalets and rooms soaked in prayer and the presence and power of the Holy Ghost where people can just go and have a retreat for the love of God to grow in their lives.
Lastly, one thing I would look forward to in "The Love Place" is our love camps where we can host teenagers annually for a few days just talking to them about the love of God, who He is, because we need teenagers and children who will know God for who He truly is, what is right and wrong and what love truly is. That way we will have healthier Christians, marriages, families because they will raise more balanced families than we even are doing.
KT: Tell us a bit about you. How you survived university, life as a single girl, life as a married lady.
TM: I was born into a Christian home, I don't like people beating or shouting at me because I can't take any form of pain. So I tried to be a good girl but you know that is definitely not enough and I had my fair share of pre-exposure growing up and there were just things that I couldn't survive so I would say that even though I had a 'good girl' image, I was never a good girl at heart. But thankfully the Lord saved me and helped me through and walked me through my childhood.
So I gave my life to Christ eventually after coming out for altar calls so many times. There was this one time during a teenager's week in my church in 2005 and I said: "Lord, I'm not going out for this thing to standout there because I have done this a million times but I am sure that this is it and this is the final time. I really want to serve you and I accept the life of Christ." And that was it, since that day the Holy Spirit came to live in me. Maybe if I had gone out it would have been better because I would have had some sort of follow up but I was the only one who knew that I just got born again.
This was July 2005 but the Lord has been very faithful and gracious to me even now and so He helped me to walk the walk. He has helped me so far which is just so much more important for me. It answers the rest of the questions because how I gave my life to Christ answers the question of how I survived university. Because as I said, I didn't have any discipleship or follow up or Christian community but I had teenagers church that I was a part of, where we would have one meeting every Saturday and say the right things and had one counsellor who understood us, as the rest of them would just impose things on you without telling you why you should do them.
But I had the Holy Spirit on my inside for every time I was confused or wanted to pray. There was this one time I brought out a chair in the corner of my hostel and said: "Holy Spirit, they say You talk to people, I want to hear You talk to me so sit down let me tell You stuff." And every day I would do that and take two chairs, sit on one and talk to the Lord about my day and this went on until I eventually heard Him speak to me and was excited. I also learnt about speaking in tongues and knowing that it was what would sustain me and if I didn't know how to I wouldn't stay safe till Jesus comes back. And so, asking the Lord to help me I started praying about it and then within a month, one day I was in the bathroom and I felt this huge sudden need to open my mouth and say something and as I did, the words began to flow out.
In all these time of just trusting the Holy Spirit to lead me and talking to Him, two things happened: one, I learnt that God loves me and two, I learnt to trust Him and ask Him for everything and till now before I even think of asking somebody else or looking outside for help I look up first. Because I had a personal encounter with God and with this experience I am not someone that they told about God, I learnt about Him myself in that my room. God walked me through His ways.
Something that God did for me which was very good was that people started to give me books. I have always been an avid reader so after I got born again, I read books like "God's Generals", the different volumes. I would watch Pastor Chris Oyakilohme every day and it would have a huge impact on my walk with God and I could never take away from that. There was also "Winning Ways" on TV when I come home for the holidays and I started to listen to Andrew Wormack and read a lot of Kenneth Hagin books that helped me grow spiritually, T.L Osborn, Max Lucado (who is like my favourite author of all time) helped me understand God, see Him for who He truly is. So, I didn't survive because the pressure didn't come or I was particularly great or determined but because I had a personal encounter with God that no one can take away from me.
That's what Abraham had, so no matter how dead the body was he knew that the God that brought him from a place where nobody knew and took him to a place that had no address, definitely he could trust Him. The same with Moses and the burning bush encounter. This kind of people you cannot preach to them about faith in God because they have had personal experiences with this God personally.
I call Him "the Friend of my childhood". He has walked me through many personal life-changing experiences — lust, grief, confusion. I learnt of the ministry of the Holy Spirit through Pastor Chris and how He walks through you. I have had my fair share of unique temptations but I cherish my relationship with God and no matter how tempting that thing may be, I don't allow anything come in between me and my relationship with God because it is like oxygen, I am sure I would die without it; so God has sustained me.